GREETINGS PEEPS!
I hope you're having a wonderful day today! I'm having a lovely time!! So in case you haven't read the title of this post nor seen the image nor seen my social media, you probably don't know that…
Drumroll please:
🎉 
TODAY'S MY 4TH BLOGIVERSARY!!!!!

 🎉

Yas, you heard me well, today my blog is turning four! What?! Dude, time flies so fast it makes me wanna cry when I think about it. You know how fast this year went by even? Like, I think I'm still living in January 30th *don't ask why* 😅 Having blogged for 4 years is a relatively long time, I'm 15, so 4 is almost one third of my life. #MindBlow I'm too young. 😂😂
Thank you so much to everyone who's followed my blog, wrote comments in here, liked my posts, it all just makes me want to continue!! Well, even if I got 0 likes and comments I'd still blog cause it's cool, but all I'm saying is that blogging, specially with peeps like you guys, makes it even more awesome!! 😊😊 And I'm not saying this to say, I mean, what's a community without people?
This is the most supportive community I would ever be part of. You're all amazing and even though we don't know each other in real life, the friendships and the fun times are real. *I hate it when I go corny*
I'm proud to be a blogger, I love it and it's really fun, I love having my voice on the internet and I love that people like what I do because it means a lot to me!! 😍😍
Rant:
So because it's my blog birthday now I'mm tell ya a little about my day, it's nothing really out of this world..
So today there wasn't school where I live *neither yesterday and the day before* so it's a great thing because I can celebrate!! Amazing coincidence!! 😆 I bought a chocolate muffin yesterday to put a candle in it and take pics of it to post it on social media cause everybody needs to know it's my anniversary and I'mma post it after publishing this post is published!
I was going to go on a blog chat on Twitter but none of the chat accounts I follow do chats on Fridays so I'll probably do that tomorrow.
To celebrate even more, I'm also gonna study literature after publishing this post because uh, what's more festive than that? 💁 I'm also gonna do some homework, yaay *insert sappy emoji*
Aaaanyway, tomorrow I'm gonna go shopping to the mall and also I'm gonna go get my new glasses cause my eyesight changed, yaaay!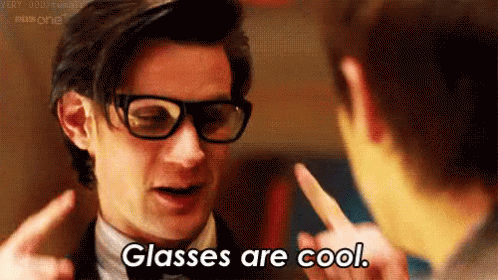 No, I'm actually happy cause getting new glasses makes me excited! I'll miss these ones tho. 😕 I'll share them with you when I have them!!
🎂🎂🎂
Share your thoughts with me!
When's your blogiversary? How long ago did you start your blog? Do YOU have a blog? Are you proud to be a blogger? Do you wear glasses? Tell me in the comments!!!
I hope you guys enjoyed this appretiation/little life rant of today, I had fun telling you my life, hehe Anyway, I hope you have an amazing day/night and an amazing week! Thank you for being you!
SEE YA PEEPS!
Last post                                                     About me                                   Last blogiversary