*yeah, I changed the design of the series a little to make it a bit less monotonous*
Greetings peeps!
I hope you're all doing great!!! You know, I'm a little sad cause it's holidays and I'm not in school *believe it or not* but I'm also happy that I'll have time to post cause you know..
IT'S EASTER HOLIDAYS!!! Lemme provide you with dis calm bunny dancin' 😎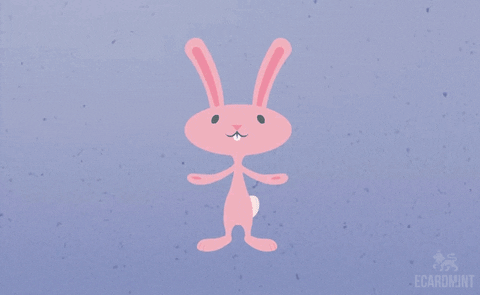 Anyway, enough of that. Today's guest is the wonderful Yashvi Doshi @ Yashvi Doshi whooooohooooooo 🎉 🎉 🎉 🎉 *psssst, that means go follow her blog*
She's the guest today so she'll be playing!! She's gonna be answering my Never Have I Ever questions by saying NEVER or HAVE and she's gonna give an explanation to some of them of why or why she didn't do those things. Those are the rules!
If ya have any questions putcho hands up!
Never Have I Ever Blogging Edition with Yashvi Doshi:
Never Have I Ever…
Not replied to a comment intentionally
HAVE
I mean, if there's a comment and it's a smiley face, or something, I just like it and let it go. Can't hold it back anymore…….
Liked a post you didn't read
HAVE
Duh. Sometimes I'll feel bored and just read the interesting posts.
Commented on a post you didn't read
HAVE
I've only done this twice. I skimmed a post, and everyone was saying "Congratulations", so I just wrote "Congratulations" as well.
Wrote a hate comment
NEVER
The blogging community is so nice! I couldn't imagine writing a hate comment.
Dissed a family member on your blog
NEVER
Wow. People do that? Rude.
Dissed another blogger on your blog
NEVER
Why would you do that? Everyone is SO nice!
Dissed a friend on your blog
NEVER
My friends are pretty amazing, so yeah.
Unfollowed someone
HAVE
When I was a fetus blogger, I followed 100+ bloggers. Now, it's like, 56 people.
Promoted your blog on other blogs in the comments
NEVER
Nope, I never needed to.
Deleted a published post
NEVER
I never felt the need to. Sure, my old posts were really cringey, but that just shows how much my posts have improved.
Deleted a draft
HAVE
Plenty of times.
Deleted a comment of yours
NEVER
I never had the need to, you know?
Deleted someone else's comment
NEVER
People comment nice things, so there's no need.
Not done a tag/award you were tagged for
NEVER
All of the tags/awards I've done, I've been tagged for.
Read a post and not liked it
NEVER
Just no.
Forgotten your password
NEVER
I never log out, so…
Forgotten your blog address
NEVER
It's my child!
Called a blogger another name
NEVER
Rude!
Accidentally left your account without having logged out
HAVE
Already answered this.
Have envied another blogger
HAVE
It's natural.
Final score:
HAVE:

7

NEVER:

13

Yaaaaay congrats Yashvi! You're a good person, you got most NEVERs!!!! 🎈🎈
🏁🏁🏁
And that was all! Thank you so so much Yashvi Doshi for playing this game on my blog, it means so much people like this!!!!!!
🦄 If you wanna read the post where I played Never Have I Ever Blogging Edition, click here! 🦄
IF YOU ALSO WANNA BE ON THIS  BLOG PLAYING THE GAME, JUST LEMME KNOW!
You can tell me in the comments, via email (diversion3000@outlook.com), Twitter or Instagram.
Share your thoughts with me!
Have you ever played Never Have I Ever? Have you ever done any of these things? Have ya not? Would you like to play this game on  my blog? Tell me erryting!
I hope you guys liked this post as much as I liked making it!! Thanks again to Yashvi for playing this game!! I hope y'all have an amazing day/night and rest of the week!!!
Massive hugs!
Last post                                                        About me                                            Last NHIE