Greetings peeps!
How is life treating y'all? I hope well! I'm doing good, thanks! So today I'll be talking about fashion again yaaaaaaay!!!!! Cause lol I'm a fashion guru, nah just kidding, psssh!
Anyway, yesterday I did the fashion review for the TCA's 2018 and I said that girls dressed too adult lately, it was something I've been actually thinking about since some time ago but I had never thought about talking about it here!!! So today's the day!
---
DISCLAIMER: I'm not gonna hate on celebs I'll be talking about, I'm actually a fan of theirs. I'm not hating on my friends either or anyone that's reading (or not) who shares the fashion tastes I'm criticizing, I think people are free to do whatever they want as long as they don't harm others.
---
I came to think of this because I saw pictures of Maddie and Mackenzie Ziegler, I'm a fan of theirs, I follow them on social media. This is how they dressed, in case you haven't seen it:
Dude, Maddie *the one on the left* is 15, I'm actually some days older than her, and Mackenzie turned 14 recently, what? How in the world have I never shown my belly or my non-existent boobs and they have? Ok they showed just a little, but come on!!
Random reader: Maybe it's cause dey celebs 🤷‍♂️
Maybe, but there're girls in my class, even girls like even 3, 4 or something years younger than me DRESS LIKE THAT!!! And by that they show skin and wear high heels, they wear makeup, they wear big earrings…. I'm not saying I'm against those things, don't get me wrong, I'm just saying they're too young to wear those things, maybe if they were a little older they wouldn't look so weird.
You have a whole life to be an adult, why start so young, enjoy being a kid, kids!
Also, do you really wanna LOOK older? Honestly, I have classmates who could look 25!!! Is that what you want? Don't you wanna look 20 when you turn, idk 20? 😅
Little story:
Some of my friends drink, some of yours may too. So one day we were hanging out and they wanted to buy some beers, they actually got the beers which I thought was pretty weird cause they don't sell alcohol to under age peeps. But they only asked ONE of my friends for his ID *he's short and really thin, he could look 12* 😅. They guy or girl that gave my friends the beers must have thought they were idk, 23 or 24!!! Why? Cause their cleavage was too much and, as hard as it sounds, being overweight makes you look older.
It's also weird to see people younger than you wearing things that show too much skin, or wearing high heels or you know those lingerie looking bras that are so in right now and you can have it out and it's ok?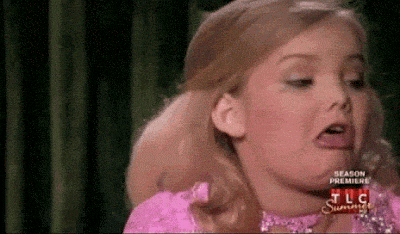 Well some my friends have worn that to school and it's like: how did your parents let you leave the house like that? You know you're still in junior high? You don't even know who the f*ck is Bill Gates is nor what DNA really is nor what incompetent really means but you wanna look mature. Ok 😑
Have a glass of GET IT TOGETHER!!!
Another story:
So at the end of this year, as some peeps are leaving the school and some others aren't *because higher school divides in 3-ish branches* we organized a dinner and pretty much every student in our generation went, teachers went too, but not all of them, sadly.
So obvs as it was the last dinner 😂😂, you'd say it's a special occasion, so you have to dress better than usual. So I wore this shirt that's pretty extra with a normal plain black skirt. Here's the shirt:
*I've actually shown both the shirt and skirt in hauls*
Dude, there was a girl who wore literally a BRA with TIGHT LEGGINGS and SUPER HIGH HEELS. I'm sorry, some of the people reading this may like it, why not. But those outfits, especially in teens *pretty much kids* is painful to look at. And I'm really sorry but it really makes you look cheap and vulgar *just looked that word up, don't know if that's what you'd call it*. It's true, you look really bad.
See? Be extra like me, but don't wear dirty looking things k? 😅💖
But that wasn't the worst thing, she was one of the a lot of my super well  mannered classmates who were throwing bread and other food. 🙄 Not only that, maybe not her, but others threw WET NAPKINS!!! Who knows what could've been in the napkin other than water?
At least if you're gonna dress "adult", FREAKING ACT LIKE IT, ya nasties!
Final word:
I think you have a whole lifetime to be an adult, why start now? Who doesn't like looking young? Unless you wanna marry an older guy who doesn't like young girls, idk? 😅 Why would I say that? 😅
If you still decide to wear more "mature" clothes, you should act like whatever age you want to appear, or at least your age, which you're not acting like either.
👠👠👠
So that's my rant of the day, I hope you liked it. I had to really say these things, cause it seems like only few people think like this, that's why I wanted to know what you think!
🍓🍓🍓
You know what's funny? I am someone who looks younger than they are, so years after making this blogpost I made a youtube video trying to make myself older lol, here it is
Share your thoughts with me!
So that's my rant of the day, I hope you liked it. I had to really say these things, cause it seems like only few people think like this, that's why I wanted to know what you think
Am I a prude? Should I have everyone see my bra? Just kidding, I don't have any bras 😂😂 What do you think of this? What do teens wear where you live? What's the craziest thing you've seen anyone wear? Do you dress extra like me? Tell me everything!
I hope you liked this post as much as I liked making it, I had a blast! I also hope you don't hate me after this, we're still friends right? I hope you have a great day/night and a great week!
Massive hugs!