HO HO HO peeps!
I hope you're all having a great day! I am!! I'm super happy because December's starting today and that means blogmas as well! So here comes another year, I'm so excited!!!
LET THE BLOGMAS BEGIN!!!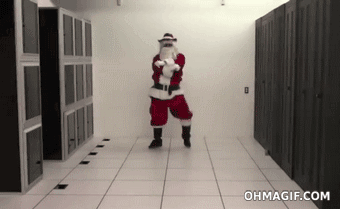 This year I'm not gonna post everyday like last year because I don't have time, I'm in senior year in high school and the school year is gonna end sooner so teachers are going so fast steam is coming out of their @$$ 😂
Sad 😭 but we'll cope.
I'm defo gonna be posting every weekend until xmas holidays begin because from that moment I'll start posting either everyday or maybe one day yes one day no, I still have to figure it out.
Dude, last year was really cool, I still can't believe how I managed to post everyday having exams, being super sad and all, it was so cool that I did it! 😛
Collabs?
I hope to do collabs too, I'm looking forward to that. I'm gonna see if les peeps I know wanna collab too and we'll see! 😀 I also have to think of ideas.
⚠️ IF YOU'D LIKE TO DO A XMAS COLLAB ON MY BLOG TELL MEEEEE ⚠️
I'm so excited for Blogmas this year, also, my Bloggiversary is just around the corner!! I'll make a post about it and also I'll think os something to celebrate it, so stay tuned!!!! 😝😝
🎅 🎅 🎅
Share your thoughts with me!
Are you doing blogmas this year? Are you posting daily? Do you celebrate Christmas? What's your favorite part about it? Do you like collabing with other bloggers? Tell meeeeeeeeeeeeeee
I hope you liked this post even though I didn't post content of any sort. But soon I will! Stay tuned! I hope you guys have an amazing day/night and an amazing week and month!
Merry Blogmas!
Ana Regina 🎁
Last post                                              About me                               Blogmas intro 2018